ADULT FICTION
The play is set in an adult bookshop and movie arcade in Times Square in the summer of 1979. The story is about the relationship between Earl, the middle-aged manager of the shop who feels a weary disappointment with how his life has evolved, and his young friend, Mikie, a naive, inexperienced nineteen-year-old. Despite his seamy surroundings, Earl has a strong sense of basic morality, and he wants to help Mikie achieve a better life than his own. Therein lies much of the irony and comedy of ADULT FICTION.
_________________________________________________
Introduction to NEW PLAYWRIGHTS: THE BEST PLAYS OF 2000
"Having acted in Brian Mori's ADULT FICTION during readings and backers' auditions, I testify firsthand that each and every reading generated unabashed enthusiasm from theatrically astute audiences. On the page, this play may seem like a thinly disguised father and son story set against a sleazy erotic background. Read it again. One sees the loneliness of lost dreams and dreams that are about to be lost. ADULT FICTION will bring a laugh and a tear to the eyes of any audience. Brian Mori, like the other writers in this collection, is a lighthouse in a foggy theatrical world." - Dan Lauria
__________________________________________________
TRICITY NEWS (Nick Montesano): "Sometimes the most apt of pupils and the most philosophical of teachers miss emphasizing the single most important aspect of a lesson. The result leaves both with more to learn. The New Jersey Repertory Theatre in Long Branch is currently presenting the New Jersey premiere of Brian Mori's ADULT FICTION. Don't miss it. Mori's tender tale is set in the most unlikely, yet somehow appropriate of places, an adult bookstore in Times Square in 1979. What unravels is the relationship between Earl, the proprietor of the shop, and Mikie, the son of one of Earl's former love interests. In the course of one evening, the two men discuss life, women, predestination, money, coffee, kiddy porn and life. And when Earl sets Mikie up on a date, Earl instructs his young protégé how to bring candy, take her to a movie, compliment her, and not expect sex right away. We are sure that Mikie knows exactly what to do. The results, however, are nothing short of hysterical and disastrous with bitingly difficult realizations for both men. This is an outstanding evening of theatre. The play itself is a masterwork of character study. Mori has written a story with a poetic vernacular that rings so true it almost sounds improvised.... The language of Mori's play serves to create characters that are tender and rich, and he weaves a tale that is filled with subtlety, sadness and an underling hope."
THE TWO RIVER TIMES (Philip Dorian): "ADULT FICTION is a startling good play. Playwright Brian Mori has a sure ear for common dialogue, and, ably guided by director Stewart Fisher, Jerry Marino and Aaron Vieira act the heck out of it.... The laughs don't come from quips; rather they come from recognition of the awkwardness we've all experienced in similar situations.... Mr. Mori is a talent to watch.... ADULT FICTION is not an optimistic play; its theme is failed relationships.... [B]e drawn into the expressive writing, directing and acting of ADULT FICTION."
THE TWO RIVER TIMES (NEW JERSEY THEATRE: THE BEST OF 2000) (Philip Dorian): "'It was a 'startling good play.'" Brian Mori's expressive writing, Stewart Fisher's crisp direction, and sensitive performances by Jerry Marino and Aaron Vieira made ADULT FICTION the best of New Jersey Repertory Company's 2000 offerings. Producers Gabe and SuzAnne Barabas search high and low for new plays by promising playwrights. The results span the same spectrum; ADULT FICTION was a high."
__________________________________________________
Production: New Jersey Repertory Company - Long Branch, NJ
Production: GeVa Theatre - Rochester, NY
Showcase: Van Dam Theatre - New York, NY
Optioned for off-Broadway by Evans Haile
Optioned for off-Broadway by Raft Theatre
Optioned for off-Broadway by Force Ten Productions
Optioned for off-Broadway by the First East Coast Theatre and Publishing Company
Winner of the Davie Prize for Playwrighting
Multiple readings across the U.S.
Adapted for the screen
BEDTIME STORIES
The story centers around the mattress relationship of a perpetually sleepy husband and his enterprising wife, who makes extra cash as a phone sex operator.
__________________________________________________
LOS ANGELES TIMES (Dale Winogura): "[T]he marital grace of BEDTIME STORIES combine to create an openly warm and tangible tone. The actors complement the dialogue, fleshing out believably stunted or expressively caring portraits.... A fine evening of theatre... rich in character."
VILLAGE VIEW (George T. Chronis): "BEDTIME STORIES is a delightful comedy centered around the mattress relationship of a perpetually tired husband (Tony Mosley) and his wife (Donna Weiss) who makes extra cash as a phone sex operator.... [The play] proves to be an insightful as well as humorous look at today's changing relationships."
DRAMA-LOGUE (Elias Stimac): "[E]ntertaining.... It is to the credit of the charming Weiss and the superbly subtle Mosley, along with some nice touches by director Nicholas Cohn, that we get to know who these characters are in such a short period of time."
_________________________________________________P
Production: Red Room Theatre - New York, NY
Production: American Renegade Theatre - North Hollywood, CA
Production: Parenthesis Theatre Club - Atlanta, GA
Production: Nat Horne Theatre - New York, NY
__________________________________________________
Published by Smith & Kraus in an anthology entitled THE BEST TEN MINUTE PLAYS OF 2005. 2 ACTORS
DREAMS OF FLIGHT
Sitting alone in his squalid tenement room, Buster, blind and lonely, waits anxiously for his only friend, Butch, a boastful, jive-talking product of the streets, who stops by each week to share a bottle of cheap wine. This dark urban comedy leads to even darker tragedy, when Butch, bent on revenge, sets his sights on robbing a liquor store, with blind Buster serving as the lookout. The results of this oftentimes funny and moving rollercoaster ride sends the audience reeling into a sadness beyond belief.
__________________________________________________
VILLAGER: "Watching Brian Mori's DREAMS OF FLIGHT carries you down into a bottomless sadness that reaches below the grief produced by the presence of death.... The two are reminiscent of Didi and Gogo in Godot except that they use their minute and waning capabilities to destroy themselves rather than being caught in a cycle of aimless repetition."
SOHO WEEKLY NEWS: "Mori has penned a vaudeville of down-and-outs, a tragicomedy starring Buster and Butch.... [A]n intense and provocative piece.... [I]t demonstrates a nascent dramatic talent."
THE DRAMATISTS GUILD QUARTERLY: "[A] marvelous discovery."
INSIDE LINCOLN PARK: "[W]hips at the senses with the ghettoized signifyin' interplay between the timorous Buster and the boastful, egocentric Butch. The dialogue is true. The acting by Mssrs. [Jeris] Poindexter and [Seiphus M.] Booker contains a brutal honesty that can only come from the soul."
CHICAGO TRIBUNE: "[A] gritty, tough, one act play about two denizens of black ghetto, an unflinching honest portrayal of slum squalor and hopelessness. Mori's sociological awareness is unimpeachable.... [Poindexter and Booker] are sharp and funny in conveying Mori's ghetto humor and rough, obscene realities."
WDCD (90.9 FM): "[Buster] is a very moving metaphor for us all. His blind stumblings lead the way for all those who grope for other people but who are frightened when they touch them.... [A] highly compassionate look at how our self-deficiencies bring our soaring intentions and hopes crashing down tragically on the hard ground of reality."
__________________________________________________
Production: Theatre for a New Generation (The Producers Club) - New York, NY
Production: Leicester College (Mad Susan Theatre Company) - Leicester, England
Production: Aflabi Ojumu Productions - Brooklyn, NY
Production: Notre Dame de Namur University - Belmont, CA
Production: Simba Theatre Company - Los Vegas, NV
Production: Victory Gardens Theatre - Chicago, IL
Production: Ensemble Theatre - Houston, TX
Production: Impossible Ragtime Theatre - New York, NY
Published by Dramatists Play Service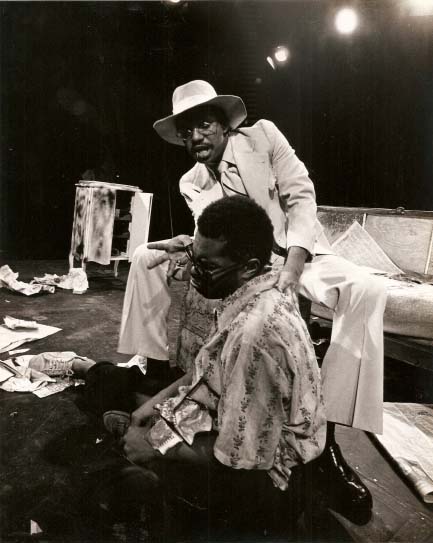 EVE IN THE HOT SEAT
Two hard-nosed, tough-as-nails ICE (Immigration and Customs Enforcement) agents capture and interrogate Eve as she tries to sneak back into the Garden of Eden.
________________________________________________
Production: New Jersey Repertory Theatre - Long Branch, NJ
Published by Smith and Kraus in 2017 THEATRE BRUT FESTIVAL ANTHOLOGY